Quand j'ai créé le Réseau Anti Spin il y a 10 ans, je savais que le nom que j'avais choisi représenterait exactement ce que je voulais amener sur la place publique.
Entre autres, je voulais me servir de ma mémoire de l'actualité qui est une de mes forces pour faire ressortir les spins que les autres n'avaient pas remarqué au départ ou pour vous rappeler des spins que vous avez oublié mais pas moi.
Alors en voici un exemple.
Aujourd'hui sur RadioEgo.com, je vois une déclaration de Stéphane Gasse, un gars que je respecte énormément parce qu'il ne se met jamais dans le trouble et parce que c'est un Team Player extraordinaire à mon avis.
Il dit dans cet audio super intéressant en passant: «Quand vous entendrez aujourd'hui mon ami Maurais à CHOI dire qu'il est numéro 1, c'est pas tout à fait vrai»
http://radioego.com/media/quand-vous-entendrez-aujourdhui-mon-ami-maurais-a-choi-dire-quil-est-numero-1-cest-pas-tout-a-fait-vrai-stephane-gasse
Il dit ça parce que Maurais est #1 dans le sondage FULL mais pas dans le sondage CENTRAL.
Mais le problème, c'est que la seule fois où Stéphane Gasse a été numéro 1 devant Gilles Parent lorsqu'il était dans le Retour à CHOI, c'était dans un sondage FULL et il avait amené du champagne en studio pour fêter ça les larmes presqu'aux yeux pour boire le divin liquide avec son dont bon ami Vince.
Il s'était même permis une petite pointe envers Gilles Parent. Et c'est ben correct de même car ce n'était pas méchant du tout. La voici: http://radioego.com/media/bravo-gilles-parent-s-point-gasse
Sauf que lorsqu'on regarde le CENTRAL dans le sondage en question, Gasse était 3e dans le marché avec un retard de 10 300 auditeurs au quart d'heure sur Gilles Parent!
La preuve? Regarder bien le tableau paru dans cet article du Le Soleil:
http://www.lapresse.ca/le-soleil/arts/television-et-radio/201411/27/01-4823009-choi-et-fm93-celebrent-une-premiere-place.php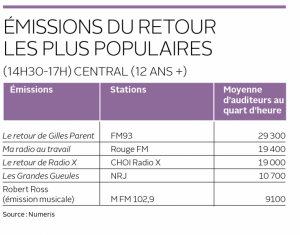 Bizarre pareil hein: ça n'avait pas empêché Gasse de fêter dans ce temps-là et de dire tout haut à tout le monde qu'il était numéro 1 même si c'était dans le FULL mais pas dans le CENTRAL.
Mais Maurais lui n'aurait pas le droit de le dire, pas le droit de fêter? Et ben.
Et jeudi, Parent qui disait tout le temps lorsqu'il était à CHOI que c'était le FULL qui comptait à l'époque où l'antenne de Radio X était numéro 1 traite cette semaine le monde de malhonnête maintenant qu'il est au FM 93 et numéro 1 que dans le CENTRAL…
Bref, Parent n'est pas mieux, Fillion n'est pas mieux, Gasse n'est pas mieux, Arthur n'est pas mieux: quand il est temps de parler de sondage, vous êtes chers animateurs tous mal placés pour le faire.
Et personnellement, si j'étais animateur dans une radio mainstream, que c'était ma job à temps ou que j'étais un des grands boss de la station, JAMAIS je ne me contenterais d'être seulement numéro 1 dans le FULL ou le CENTRAL: je voudrais écraser la concurrence et être numéro 1 par une marge extrême dans les deux sondages!
Je parlerai du sondage Numeris à l'édition #74 de La Coche!
That's my story and I'm sticking to it!
Ici FBI de la Maison Feu Bum Intello.
Président-Directeur-général et Membre Honoraire à vie du CRBO,
Éditeur-en-chef de Reseauantispin.com,
CEO de la Bum Coalition,
The Spin Crusher,
Mr Concept,
La Voix des Anonymes/The Voice of the Voiceless,
The Broka of chains,
Mister One Take,
Rule breaker, risk taker, game changer.
100% Straight Fire, Can-Am Warrior
And your Natural Spin Killaaaaaaaaa.
Ne manquez pas La Coche, en direct tous les lundi 20h00 sur www.RadioH2O.ca
Abonnez-vous au Feed RSS exclusif aux shows du Réseau Anti Spin HD
iTunes: https://t.co/pcVzbETLWn
Twitter et Facebook: @Reseauantispin